SBT provides the best solutions in the areas of cloud, security, IoT and other technologies and know-how.
We are also focusing on IR and recruitment, and have received a variety of awards in business, IR, and recruitment.
The following is a selection of awards and certifications from among them that are unique to SBT.
Winning the award
[Cloud] Microsoft Partner of the Year Award for the sixth consecutive year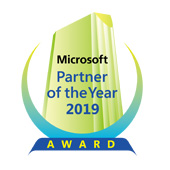 "Microsoft Partner of the Year" is a program for Japan Microsoft to select partners with outstanding achievements in 23 areas of awards.
SBT has won the award for 6 consecutive years since 2014.
2019
Internet of Things (IoT) Award
2018
Security and Compliance Award
2017
Cloud Productivity Award
2016
Messaging Awards, Public Sector Awards, and Cloud Platform Awards (System Integrator) Received 3 categories award
2015
Cloud Platform Competency Awards (System Integrator)
Awarded Identity and Access Competency Award Received 2 categories award
2014
Identity and Access Competency Award, Grand Prize
2012
Cloud Partner Award
[Cloud・Global] Received 4-crown award in Microsoft Worldwide Partner Award etc.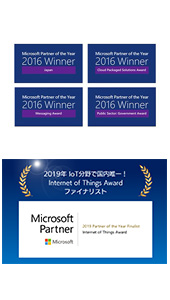 Microsoft was awarded "Microsoft Worldwide Partner Award" every year for providing outstanding solutions and services based on Microsoft products and for partner companies with a wealth of achievements. SBT became the first company in Japan to attain the global mark of 4-crown award in 2016(according to our own research).
In 2019, we were selected as a finalist for the IoT division from over 2,900 partner companies worldwide. In this year, SBT became the only company in Japan to be selected in the IoT field.
| | |
| --- | --- |
| 2019 | Internet of Things Partner of the Year finalists (only Japanese company) |
| 2017 | Collaboration and Content Partner of the Year finalists (first in Japan) |
| 2016 | Country Partner of the Year Award, Cloud Packaged Solutions, Messaging, Public Sector-Government Award (first Japanese company to win 4 prize) |
[Recruitiment] Received First Prize in the 7th Japan HR Challenge Award in the recruiting Division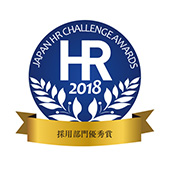 The Grade Skip System and the Professional Engineer's course, which began when new graduates were adopted in FY2018, were recognized as outstanding efforts in the human resources domain, and were awarded first prize in the recruitment section at the 7th Japan HR Challenge Award.

●Grading skip system
Grade skip system for students with unique achievements and skills. We provide an environment that enables new graduates to engage an active role as soon as they join the company and receive appropriate treatment (placing them at the top of the management level, 1 at a time at the front of grade 3) according to their role.

●Professional Engineer Course
Students with knowledge, skills, and experience in highly specialized occupations, such as security engineers and data scientists, who have the potential to work immediately, will be recruited separately from conventional comprehensive ICT courses by occupation.
Certification
Acquired the highest rank of "ERUBOSHI" accreditation based on the Female Activity Promotion Law
In 2018, we received the highest ranking (third level) from the Minister of Health, Labour and Welfare as "ERUBOSHI" under the Act on Promotion of Women's Participation and Advancement in the Workplace (Act on Promotion of Women's Participation and Advancement in the Workplace).

The Minister of Health, Labour and Welfare certifies enterprises that have formulated and reported their action plans based on the Law for Promotion of Employment of Women, and that are well implemented. There are 5 evaluation categories: ① recruitment, ② continued employment, ③ working styles such as working hours, ④ ratio of managers, and ⑤ diverse career courses. The certification categories are divided into 3 categories.
SBT met the criteria for all evaluation items and received the third level of certification, the highest evaluation.