SBT's Cloud Business Initiatives
SBT has introduced and operated Microsoft solutions for customers since the beginning of cloud services.

Since the era of BPOS(Business Productivity Online Suite, the predecessor of Office 365, we have been introducing and verifying various new products, such as Microsoft Azure and Dynamics 365, Microsoft 365, into our company while continuing to consider how to select solutions that suit Japanese companies, how to introduce them, and how to use them.
We have also developed original SBT cloud solutions to make these cloud services safer, more efficient, and more effective, and easier to use outside the company, and have been engaged in cloud business aimed at resolving customers' problems.

Currently, we are deploying this system to approximately 2 million users (as of September 2020) at approximately 1,119 companies, including Office 365, Enterprise Mobility + Security, Microsoft Azure, Dynamics 365 and Online Service Gate, ADFS on Cloud, a proprietary cloud solution for SBT.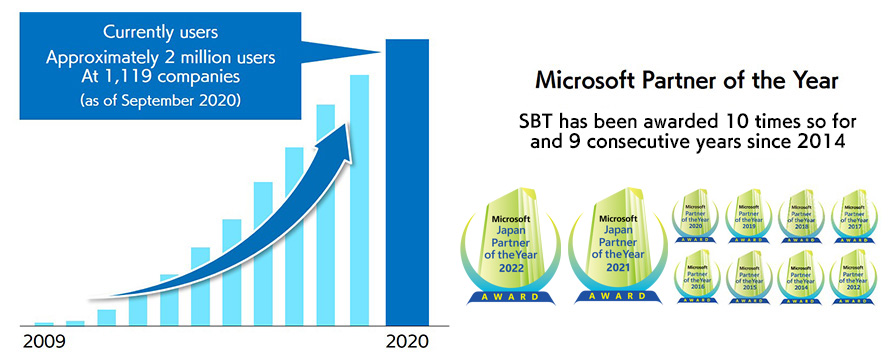 External Evaluation
In recognition of its track record of cloud adoption to date, Microsoft Japan has been awarded 10 Partner Awards for 9 consecutive years since 2014 in the "Microsoft Partner of the Year" program, which selects business partners with outstanding achievements in a variety of fields.
Similarly, in 2016, Microsoft won 4 of its first Japanese companies (in-house surveys) in Microsoft Worldwide Partner Award, which annually awards partners with outstanding solutions and services based on Microsoft products and abundant track records.
"clouXion", a brand that combines cloud-based know-how
SBT has developed a variety of unique cloud solutions based on its track record of cloud adoption.
In 2018, we launched clouXion, a new brand that combines these proprietary cloud solutions.

clouXion offers a wide range of solutions that meet the needs of customers for various types of cloud utilization, comprising "Certification and Security Solutions" for the secure use of the cloud and "Business Efficiency Solutions" for the further use of the cloud.
Through SBT's clouXion, SBT promotes the adoption of cloud computing by customers and contributes to the enhancement of corporate value through work-style reforms and business model reforms.


SBT's Security Business Initiatives
Since early 2000, when SBT focused on the sale and construction of IT products, SBT has provided operational services after the introduction of security products and has accumulated knowledge. In 2016, we began offering Managed Security Services (MSS) to provide security operations monitoring in response to the increasing sophistication and complexity of cyber attacks. In addition to the expertise we have cultivated in recent years through our extensive experience in cloud installation, we provide 1-stop support for the protection of customers' information assets and business continuity, including support for CSIRT building to strengthen internal systems in the event of cyber attacks, and consulting to support comprehensive corporate security.


SBT's MSS is characterized by its own operation of both the SOC (Security Operation Center), which monitors logs and analyzes detected alerts, and the NOC (Network Operation Center), which monitors the life and death of equipment and maintains versions of equipment. SBT security specialists are stationed there and respond to the situation.

A highly qualified security expert monitors and operates the logging of security equipment introduced by the user company 24 hours a day, 365 days a year, ranks the alerts according to the level of risk and impact of the detected alerts, and then notifies the primary response and the user company of the alerts.
Up to now, we have accumulated expertise in MSS through a variety of experiences, including support for SoftBank Corp.'s SOC and the construction and operation of orders for 4 prefectures (121 municipalities) under a national policy of strengthening 47 prefectural networks, known as the Local Government Information Security Cloud.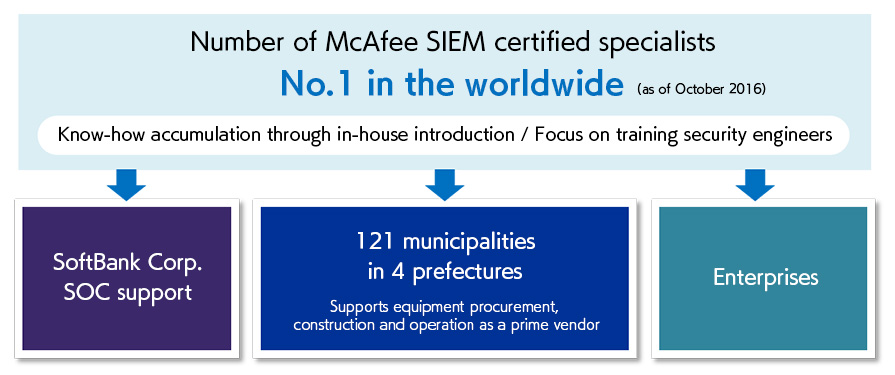 In recent years, we have developed our own AI model for detecting security threats and introduced it into MSS, based on our knowledge and track record in analyzing the vast number of event logs and alerts that amount to a few billion or a few JPY100 billion a day. By introducing this model into MSS, we have been able to provide services that are quicker and more precise.
In April 2019, we established the Global Security Operation Center, an overseas monitoring base for MSS. In English, we provide the same services to Japanese companies with overseas bases.
Need for Security Operations Monitoring Services
With the diversification and sophistication of cyber attacks in recent years, detecting and analyzing unauthorized access is becoming increasingly sophisticated. However, due to the recent shortage of security personnel, the cost of training and establishing a system within the company, and the emergence of new security products such as targeted attack countermeasures and end-point measures (such as PCs and mobile devices), it is difficult to operate in-house. As a result, an increasing number of companies are outsourcing security support.
Demand for MSS is increasing as a service that not only reduces the burden of customer companies' IT departments' operations, but also enables prompt initial responses to unauthorized access and other alerts.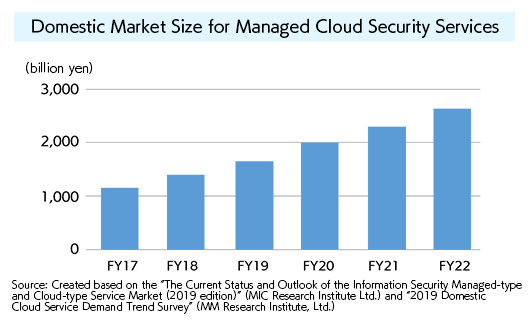 Benefits and Markets of Cloud
Is it a cloud to begin with?
A cloud is a mechanism that enables users to use services on the Internet as much as they need when they need them, even if they do not have a server or software.
Growing Demand for Cloud (4 Benefits)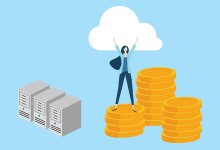 Be cheaper
Because we do not own the equipment, the initial cost is low, and the monthly cost is limited to the amount used.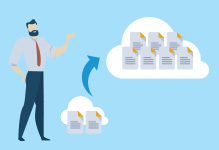 Be highly scalable
Because you don't need to have equipment in place, you can increase, decrease, or customize your server instantly.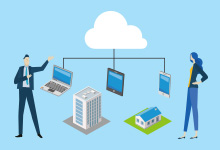 Easy information sharing
The ability to access Internet access from anywhere improves operational efficiency.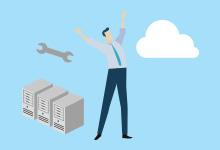 No maintenance
There is no need to manage the equipment, so there is no time and cost for maintenance.
Due to these advantages, more and more companies are adopting the cloud, and the cloud market is growing significantly.