Corporate Philosophy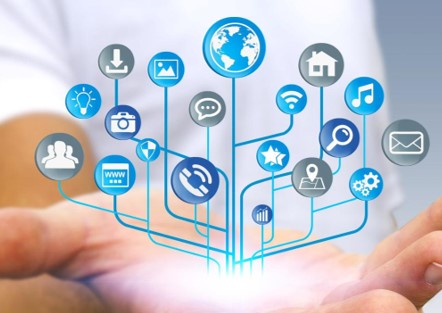 Information Revolution - Happiness for everyone
~ Harnessing the Power of Technology to Build a Brighter Future ~
Since its foundation, the SoftBank Group has always sought to contribute to people and society through the Information Revolution.
At SB Technology, we will aim to further enrich the information society by solving various problems faced by customers with our ICT services.
Growth Trajectory
Founded as SoftBank Giken in October 1990, we became SoftBank Technology in January 1999. We were engaged in system support for Softbank Group companies and the business of selling overseas software and IT equipment to Japanese companies. With the spread of the Internet, the business of operating the e-commerce sites of other companies expanded, and we were listed on the First Section of the Tokyo Stock Exchange in March 2006.

In FY2012, we transitioned to the current management structure and held company-wide discussions from the perspective of "how to grow" rather than "how to survive." In FY2013, we launched our first three-year plan, identifying "Cloud," "Security" and "Big Data" as priority areas, in a bid to create business areas in which we are No.1. We promoted active recruitment and reinforcement of our technological capability to grow into a company capable of taking on large jobs. In particular, we focused on strengthening the project management structure and worked to improve the quality of development projects. In addition, we promoted M&A activities targeting companies with proprietary technology and, in FY2015, the final year of the first three-year plan, we achieved new record levels of revenue and earnings.

In FY2016, we launched our second three-year plan, laying the foundations for achieving further growth. With "cloud integration" and "IoT business development" as basic strategies, we aim to be a business partner that contributes to the organic growth of our customers.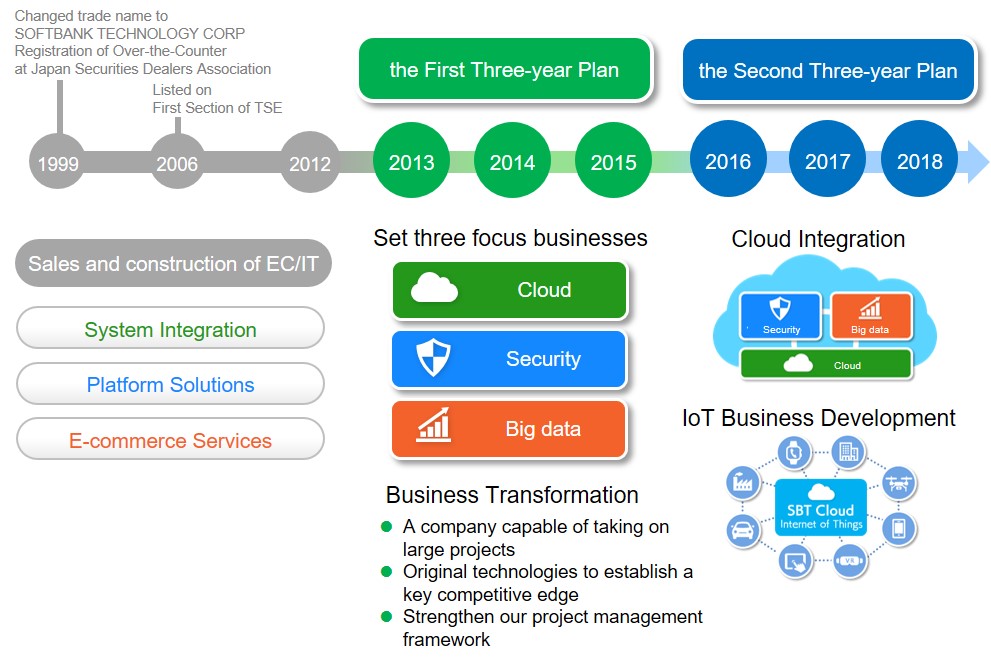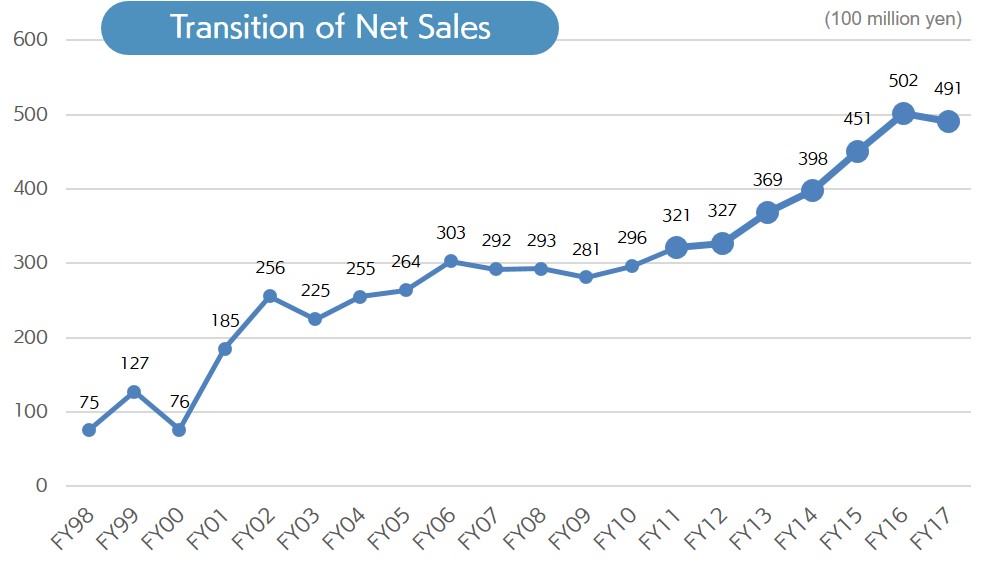 Businesses and Strengths
ICT Services
We support customers both inside and outside the SoftBank Group in solving problems and growing their business through the provision of ICT services.

Features and Strengths
We are IT professionals with extensive experience in the fields of "Cloud," "Security" and "Big Data," which are our focus business areas. With high levels of expertise in each of these areas, we are able to offer clients a one-stop service that meets all their cloud, security and big data requirements.
Cloud
We have been handling cloud computing products since the dawn of cloud computing and have delivered cloud computing solutions to more than 800 corporate customers and 1.5 billion users. Especially in the area of cloud-based solutions using Microsoft services, we have taken part in many Japan first case studies and large-scale projects and are contributing to the cloud transformation of major companies and the public sector.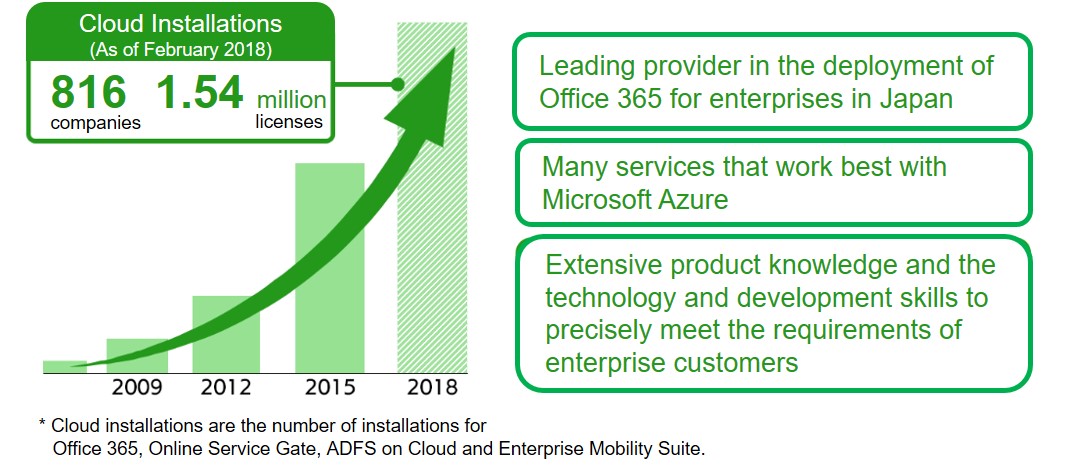 Security
We have a Network Operations Center (NOC) and a Security Operations Center (SOC) that operates 24 hours a day, 365 days a year. We provide a comprehensive lineup of security services, ranging from protection against cyberattacks to the monitoring of hacking attempts and recovery.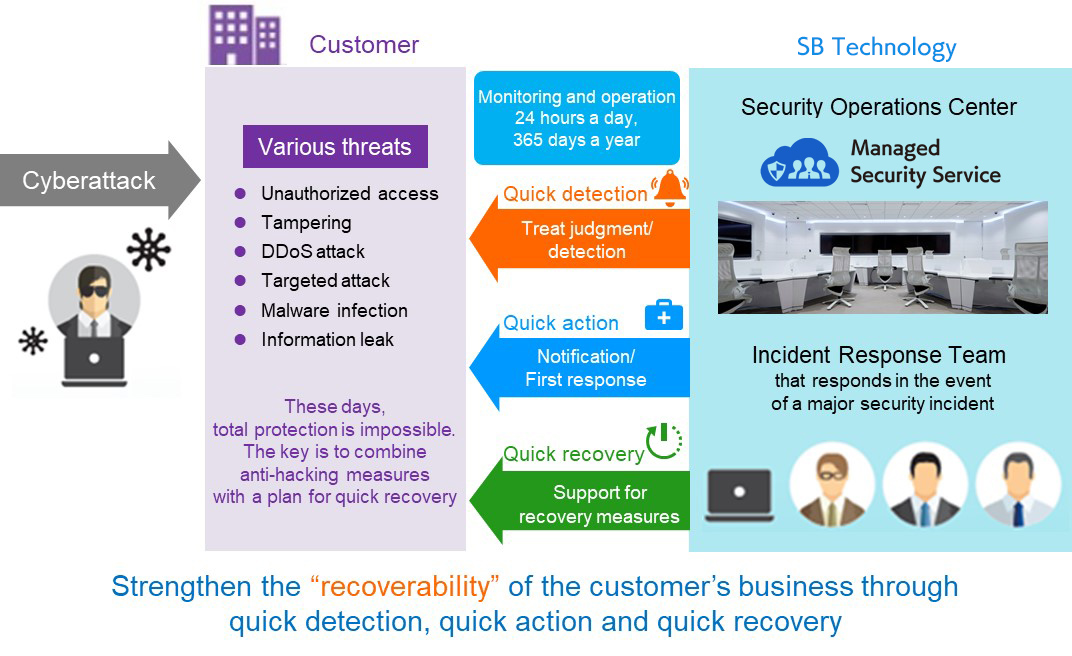 Big Data
We stand out because we can support customers both in maintaining and expanding their business through the knowhow we have built up in our integration business since our foundation and our knowledge of data use acquired through the access analysis business we launched in 2000. Another strength is our ability to provide cutting-edge technologies such as machine learning and AI through cloud technology.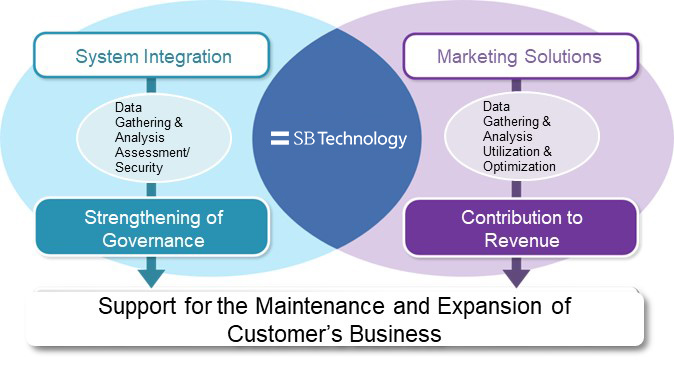 External Evaluation
The technological skills of our employees underpin our vision and corporate growth. Our expertise and technological skills are evidenced by the advanced level IT qualifications held by many of our staff.
We have received numerous awards and MVP awards from domestic and overseas IT makers providing products and services handled by us.
Employees and Workstyle
Employees
As of April 1, 2018, the number of employees on a consolidated basis topped 1,000. We employee many highly skilled IT professionals to support customers in their business and operations. We also employ other experts such as security researchers and data scientists who are mainly engaged in lecture activities and the provision of information to the media and the public sector.

*1:Non-consolidated basis, number of advanced level qualifications such as internationally recognized project management and information security qualifications and Microsoft system advanced level engineer qualifications held as of March 31, 2018
*2:Non-consolidated basis, as of March 31, 2018
The considerable growth of our employees is the driving force behind the significant growth of SBT
We work to enhance the skills of all employees and pursue initiatives to bolster productivity.

Office Environment
Our offices are open plan spaces without partitioning or walls. Casual conversations can spark fresh ideas. In the presentation room, employees connect with other bases and hold management meetings and various other discussions, while conducting multi-faceted analysis on five screens.

Group Structure
About Our Parent Company
SoftBank Group Corp., which is our parent company, operates across a number of segments including the Domestic Telecommunications Segment, the Sprint Segment, the Yahoo Japan Segment, the Distribution Business, the Arm Segment, and the SoftBank Vision Fund and Delta Fund Segment.
About the SB Technology Group
Since 2012, we have been stepping up our M&A activities under our new management structure, aiming "Achieve Significant Growth". We will continue welcoming companies with proprietary technologies into the SBT Group to widen the Group's range of technologies, and will continue evolving while strengthening our competitive advantage through Group synergy.