Forecast (FY2018)
The public cloud services market on which we are focusing is expected to expand, and we have received many inquiries concerning the utilization of data in cloud-computing from customers, mostly enterprise companies and the public sector.

We plan to improve profitability through enhancement of added value by combining our accumulated knowhow with our knowledge of advanced ICT technology and fusing "Data Analytics," "Security Solutions" and "Cloud Solutions," which are our three focus businesses, in the cloud, and through efforts to expand and strengthen our customer base. We will seek stable procurement of development resources by strengthening our relationships with outside partners and focus on the maximization of project profits and we will work to improve profit margins by seeking to improve the efficiency of operations through the use of AI, thus reducing operation costs.

Meanwhile, in an IoT society, where accelerating growth is expected, we plan to actively promote the identification and development of advanced technologies with an eye on the future, investment for the establishment of new business models, training for the mastering of advanced technologies that will contribute to customer growth, project management, etc. and recruitment for the startup of new businesses.

By implementing initiatives to improve profits whilst investing in growth as explained above, in FY2018 we plan to record net sales of 52 billion yen (up 5.8% year on year), operating profit of 25 billion yen (up 14.9%), ordinary profit of 25 billion yen (up 4.2%), and profit attributable to owners of parent of 1600 billion yen (up 2.8%).
(million yen)
| | Net sales | Operating income | Ordinary income | Profit attributable to owners of parent |
| --- | --- | --- | --- | --- |
| FY18 Forecast | 52,000 | 2,500 | 2,500 | 1,600 |
| FY17 Results | 49,140 | 2,176 | 2,399 | 1,556 |
| Amount of change | 2,860 | 324 | 101 | 44 |
| Ratio of change | 5.8% | 14.9% | 4.2% | 2.8% |
Besides achieving the above plan, we will position FY2018 as a year for finishing off the second three-year plan and lay the foundations for early development into a company with operating profit topping 3 billion yen.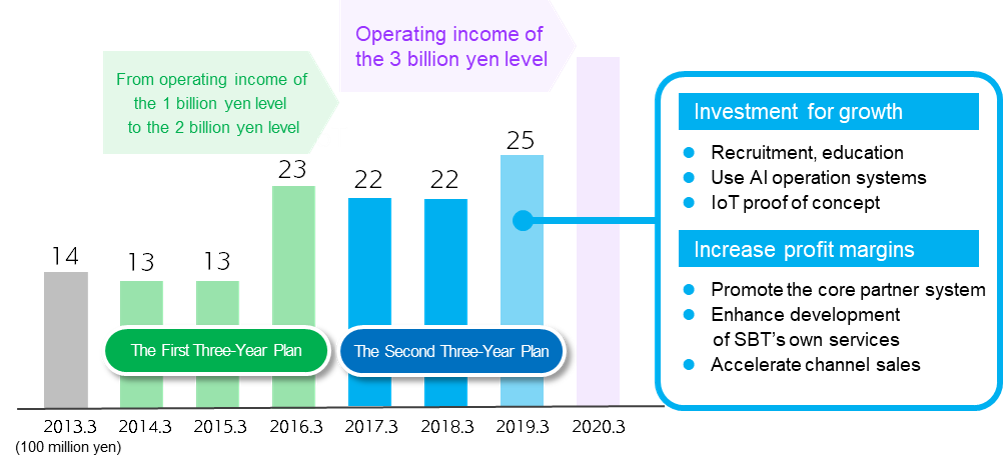 Related Link
---