SoftBank Technology Corp. (headquartered in Shinjuku-ku, Tokyo; Shinichi Ata, President & CEO; hereinafter "SBT"), a leading enterprise cloud platform and cybersecurity company, today announced its third medium-term management plan, which covers the period of FY2019 to FY2021 and aims to spur further growth.
SBT changed to its current trade name in 1999, and to mark the milestone of twenty years since the start of over-the-counter trading, SBT launched Vision 2030. As part of this project, a team roughly 130 strong from all ages have engaged in serious discussion over the values all employees hold dear, the world in 2030 and our mission in that future.
SBT has formulated its third medium-term management plan with the aim of becoming a "Be a leader of cloud consulting and service company to increase enterprise Japanese company's competitiveness " under a new corporate philosophy established in April this year that incorporates the vision and values derived from the Vision 2030 project.
To tackle the issues of Japan's declining working population and IT talent shortage, SBT refined its cloud and security-related technologies and expertise in its first and second medium-term management plans. By widely supplying these technologies and expertise in the form of high value-added services, SBT hopes to promote workstyle reforms at Japanese companies. SBT will also offer support as a business partner for companies looking to make strategic IT investments to grow the core businesses handled by their operating divisions.
■ The Third Medium-term Management Plan
Positioning and Key Themes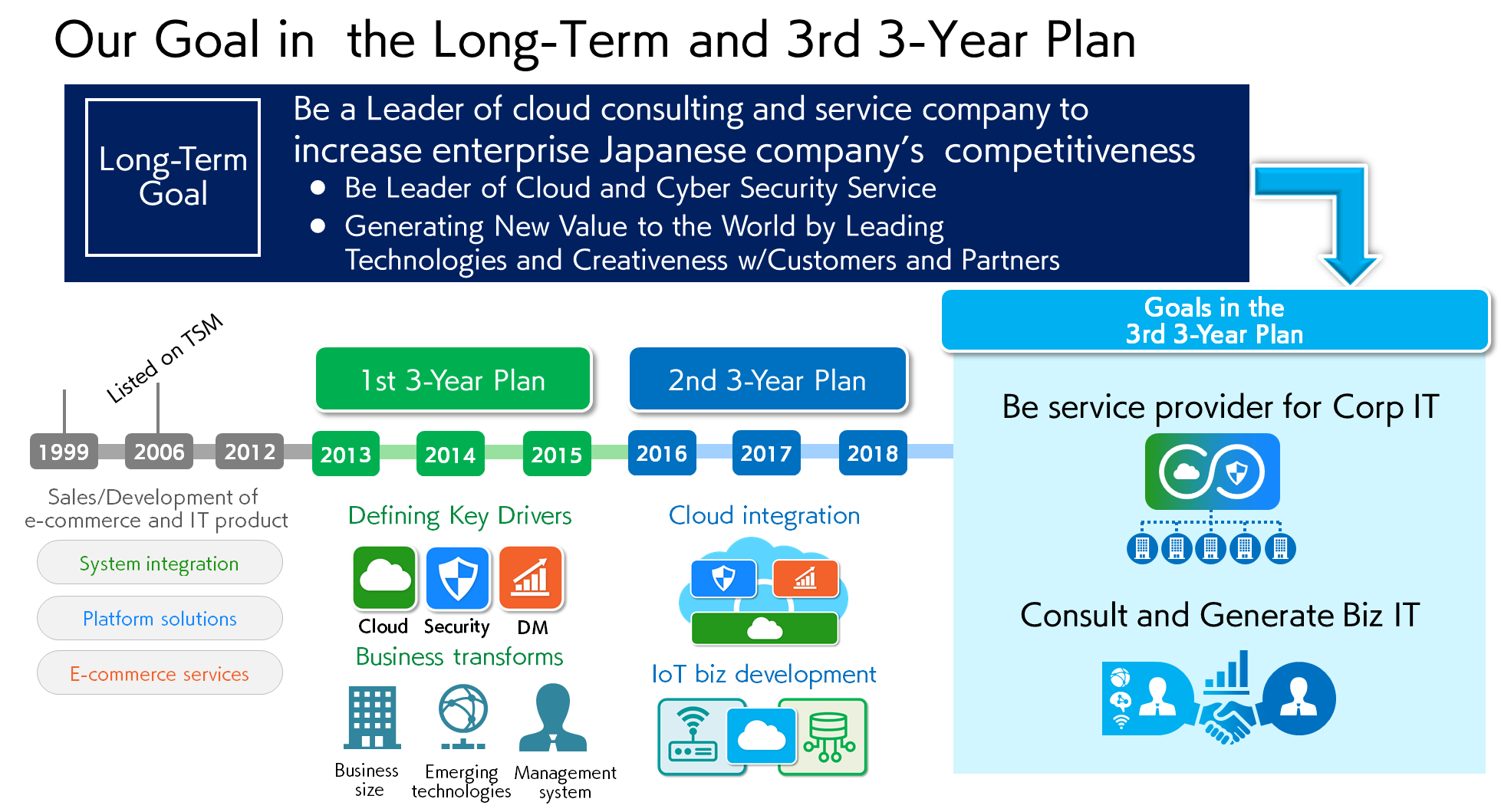 The SBT Group has positioned "evolution into a service provider" and "creation of consulting & business IT" as key themes in promoting its third medium-term management plan.
(a) Evolution into a service provider
・ Concentrate on system introduction and development projects that lead to the development of services
・ Enhance and upgrade cloud and security services for enterprise
・ Establish and strengthen partner sales
(b) Creation of consulting & business IT
・ Adopt cloud computing and IoT in existing businesses
・ Collaborate on new businesses utilizing IoT
・ Further the penetration of scrum development
Management Targets (Quantitative Targets for FY2021)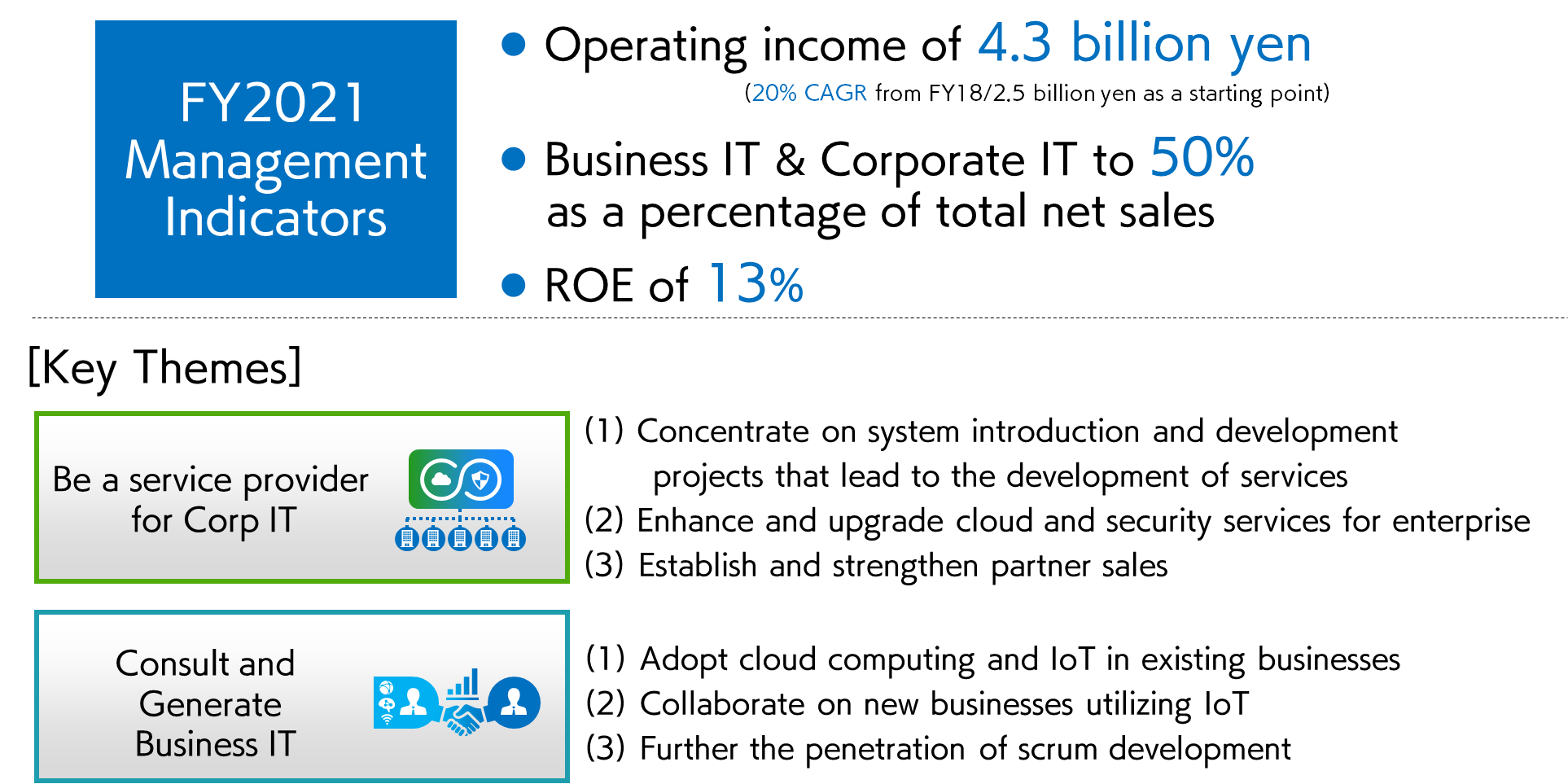 In its third medium-term management plan, the SBT Group has set business IT solutions and corporate IT solutions as focus businesses and will strive to expand these businesses and make further improvements to corporate value.
While these focus businesses accounted for 35% of total sales in the year ended March 2019, SBT has established priority indicators to raise "focus businesses as a percentage of total sales to 50%" and achieve "consolidated operating income of 4.3 billion yen" (20% CAGR from the year ended March 2019 as a starting point), and will promote initiatives with this in mind. SBT is also driving management efforts with the goal of achieving a 13% return on equity (ROE) by the year ending March 2022.
* Please refer to the Briefing Materials on the Third Medium-term Management Plan for more details.
Contact persons for press inquiries:
○SoftBank Technology Corp.
Tel:+81-3-6892-3063 / Mail:sbt-pr@tech.softbank.co.jp