Tokyo - April 1,2019 -SoftBank Technology Corp. (headquartered in Shinjuku-ku, Tokyo; Shinichi Ata, President & CEO; hereinafter "SBT"), a leading enterprise cloud platform and cybersecurity company, today announced a new corporate philosophy that consist of a new vision, a new value (activity principal) and the existing corporate mission statement "Information Revolution, Happiness for everyone ~Technologies Design the Future~."
In January 1991, SBT changed its trade name to the current "Softbank Technology Corp." and in July of the same year, was listed on JASDAQ (Japan Assoc. of Securities Dealers Automated Quotations). Thus, this year marks the 20th anniversary since above the remarkable year. SBT launched "Vision 2030" as a 20th anniversary project, and all its employees joined workshop to imagine and discuss about the future of 2030, important values for each person and everyone, company contribution to society in the next 10 years and so on. After about nine months of the companywide activity since July 2018, SBT finally made its vision and value as the following.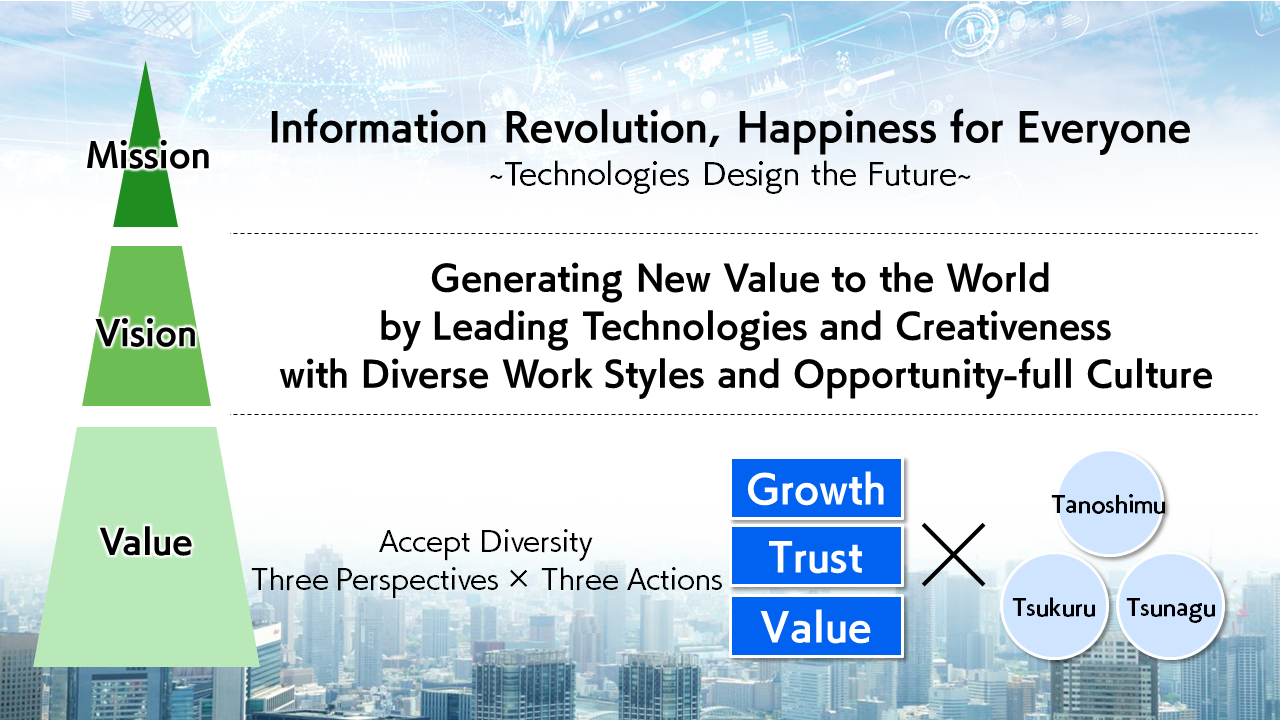 SBT's New Corporate Philosophy with Vision and Value
SBT has adopted as its vision "Generating new value to the world by leading technologies and creativeness with diverse work styles and opportunity-full culture" after thinking about what to do specifically and what to aim for in order to achieve its mission "Technologies design the future." Regarding the value, SBT focused on diversity and formulated six keywords: "Growth," "Trust," and "Value," which represent perspectives and "Tanoshimu," "Tsukuru," and "Tsunagu," as Japanese Hiragana which represent actions.

These perspectives and actions can be multiple combined and represent the diversity of values. For example, even a single Japanese Hiragana word "Tanoshimu" has various meanings, such as fun, enjoy, happy, pleasure, and excite. This can be interchangeable, such as "Happy with your own growth (Tanoshimu)," "Pleasure to have trust with colleagues or business partners (Tanoshimu), and "Excite to create value with customers (Tanoshimu)," depending on the situation and position.

SBT aims to realize an information-rich society by offering ICT services under its new corporate philosophy.
▼Related links
Corporate Philosophy
Contact persons for press inquiries:
○SoftBank Technology Corp.
Tel:+81-3-6892-3063 / Mail:sbt-pr@tech.softbank.co.jp