Response to the Sustainable Development Goals (SDGs)
We are contributing to the realization of an affluent information-oriented society through the provision of ICT services. Our mission is "Information Revolution - Happiness for Everyone: Technologies Design the Future."
Since April 2019, we have been advancing the Sustainable Development Goals (SDGs) under the vision of "Generating New Value to the World by Leading Technologies and Creativeness with Diverse Work Styles and Opportunity-full Culture. " We provide support for the use of ICT services to address social issues such as labor shortages and productivity improvements in the construction and agricultural sectors, as well as support for the remote work infrastructure.
Through our business activities and corporate activities, we will work with stakeholders to resolve social issues and contribute to the realization of a sustainable society as stated by SDGs.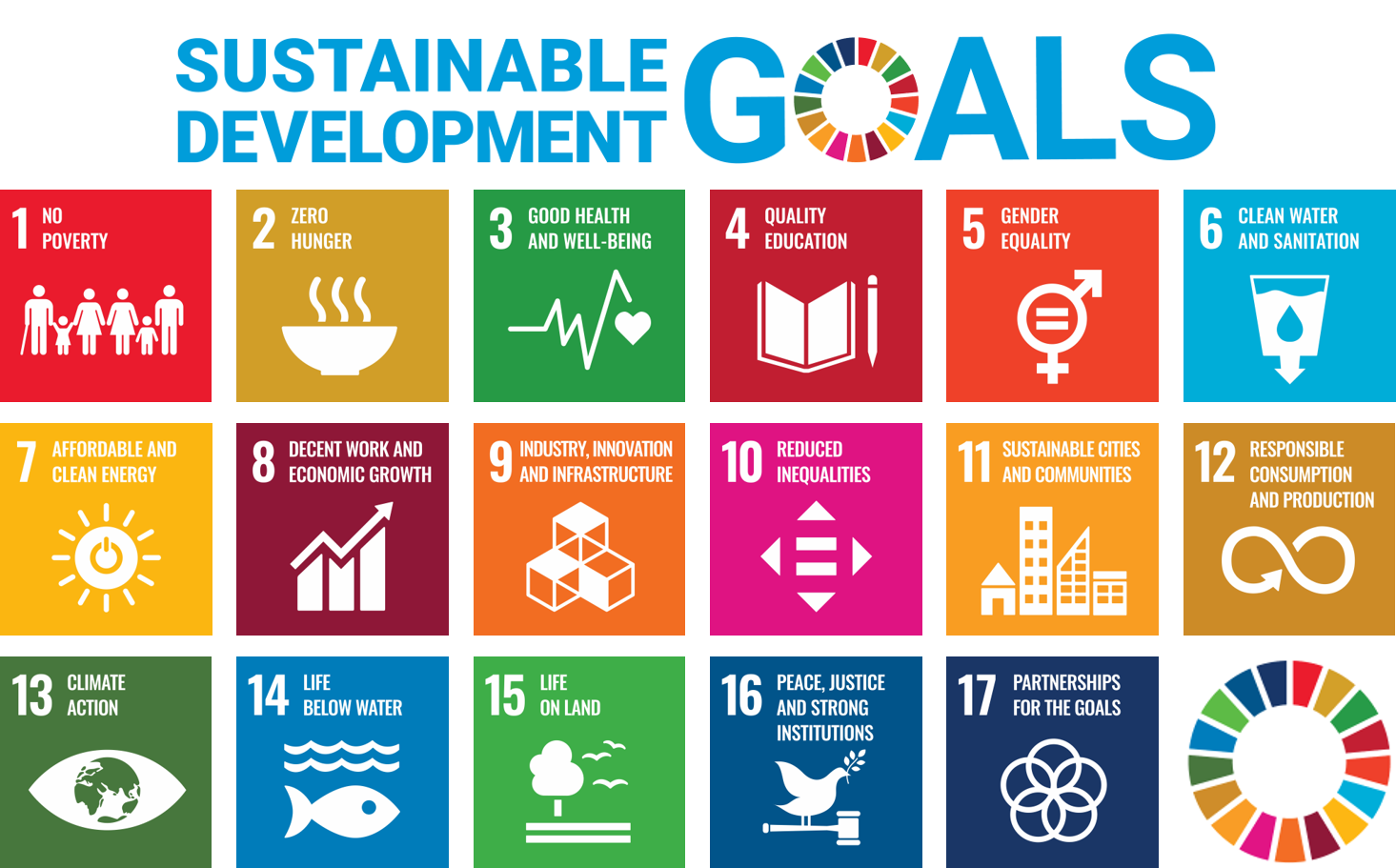 Human Rights Initiatives
SB Technology Corp. respects human rights in accordance with the "Universal Declaration of Human Rights," and other international standards.
In our Sustainability Principles, we state "Employee satisfaction, pride, uniqueness, diversity and challenging environment,will be encouraged and valued." Based on this approach, we have established the "SB Technology Human Rights Policy" and we implement various initiatives.
SB Technology Human Rights Policy
| | |
| --- | --- |
| 1. Promises with respect to human rights | All of the executives and employees of SB Technology Corp. and its Group companies (hereinafter, "We") contribute to the development of a sustainable society by respecting human rights in every aspect of our corporate activities. |
| 2. References and scope | We strive to avoid involvement in discrimination and the violation of human rights in all services, products, and business activities in accordance with the international principles of human rights*1 while also requiring suppliers and business partners to respect and refrain from infringing on human rights under these principles. |
| 3. Emphasis on diversity | We respect the diversity of the colleagues that we work with and do not tolerate discrimination or harassment on the basis of race, ethnicity, religion, nationality, birthplace, gender, gender identity and sexual orientation, age, disability, or illness. Opportunities shall be equal at all times, and hiring, placement, evaluation, remuneration, and promotion are conducted based on individual abilities, experience, and performance. |
| 4. Prohibition of forced labor and child labor | We prohibit any and all forms of forced labor and human trafficking as well as child labor and undertake the revision and eradication of labor practices which violate human rights. |
| 5. Respect for the freedom of association and the exercise of the right to collective bargaining | We respect the right to form labor unions based on the wishes of individual employees as well as the right to choose whether or not to participate, and we affirm the exercise of effective collective bargaining rights. The company shall negotiate in good faith through constructive dialog with labor representatives. |
| 6. Benefits and wages | We endeavor to comply with applicable laws regarding wages, working hours, overtime, and benefits. In addition, we endeavor to reduce excessive working hours which are not limited to legal compliance and provide employees with remuneration that exceeds living wages and is competitive when compared with other labor markets in the region and industry. |
| 7. Employee safety and health preservation | We comply with the laws, regulations, and rules concerning safety and health while providing a sound and intelligent working environment and maintain such compliance through implementing the appropriate measures for health risks. |
| 8. Freedom of expression and the protection of privacy | We recognize the freedom of expression and the protection of privacy in telecommunications and the Internet and communications on social media and take the utmost care not to infringe on such rights. In addition, we serve all customers in a fair and equitable manner while providing reliable and highly convenient services. |
| 9. Initiatives and systems directed at the respect of human rights | We construct mechanisms for effective countermeasures to prevent the violation of human rights by establishing the appropriate reporting point of contact. In order to evaluate the impact of business activities on human rights, we carry out human rights due diligence, continuously monitor the impact, and report to the appropriate parties. In the unlikely event that business activities should have a negative impact on human rights, we shall respond appropriately using fair and equitable remedial actions to mitigate and resolve such effects. |
| 10. Communication | The promotion of this charter is under the jurisdiction of the human rights committee which includes the Chief Executive Officer, and the contents of the charter shall be disseminated to all executives, employees, and external stakeholders through the proactive promotion of activities concerning the awareness of human rights. |
*1 Refers to the "Universal Declaration of Human Rights," "UN Guiding Principles on Business and Human Rights," "Children's Rights and Business Principles," and the "Eight Fundamental Conventions of the ILO*2".

*2 The Eight Fundamental Conventions of the ILO are:
1. Freedom of Association and Protection of the Right to Organise Convention
2. Right to Organise and Collective Bargaining Convention
3. Forced Labour Convention
4. Abolition of Forced Labour Convention
5. Minimum Age Convention
6. Worst Forms of Child Labour Convention
7. Equal Remuneration Convention
8. Discrimination (Employment and Occupation) Convention

SDGs Promotion System
We have established SDGs Promotion Committee. Shinichi Ata, the President and CEO, serves as Chairman, and Tetsuya Shimizu, the Executive Officer and General Manager of the Corporate Planning Division, as the officer in charge of SDGs Promotion, to encourage group-wide SDGs activities.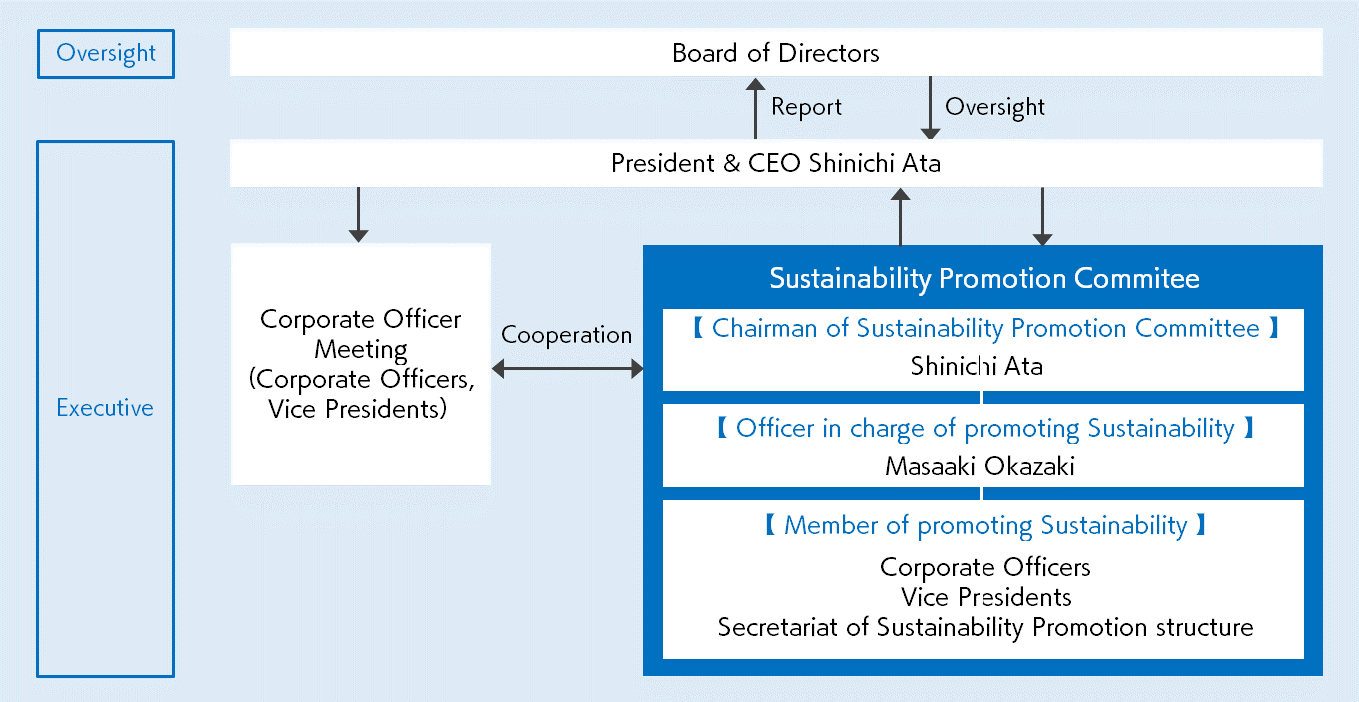 Materiality (material issues)
We have identified six material issues as key tasks for driving our sustainability activities.
These material issues serve as widely applicable action guidelines for achieving our management policy and long-term targets. Through ICT services, we will help build a rich information-intensive society.

Click the figure to expand it

Click the figure to expand it.
Identifying material issues
We identified and set the material issues by taking the following steps to organize the contents.
Listing social issues based on the 17 SDGs and 169 targets, the Global Risk Report 2021, and others
Identifying social issues with an impact on the Company from among those listed in the above step
Evaluating the content of the issues identified in step 2 above by having their materiality evaluated by our customers, shareholders, investors, and other stakeholders, and evaluating their materiality for employees' activities toward 2030 in the overall company's work, among other points
Identifying material issues in line with the Company's medium- to long-term businesses through consideration by the management that is made based on the above

Click the figure to expand it.
KPIs for material issues (targets and achievements)
We have set key initiatives for each of the six material issues. These initiatives are positioned as value we provide to help build a sustainable society through activities and achievements related to the material issues.
We have also set 12 KPIs as indicators for creating value and steadily driving activities on the material issues.
We regularly evaluate the progress and report achievements based on these KPIs. We also review them in light of our business status and social changes.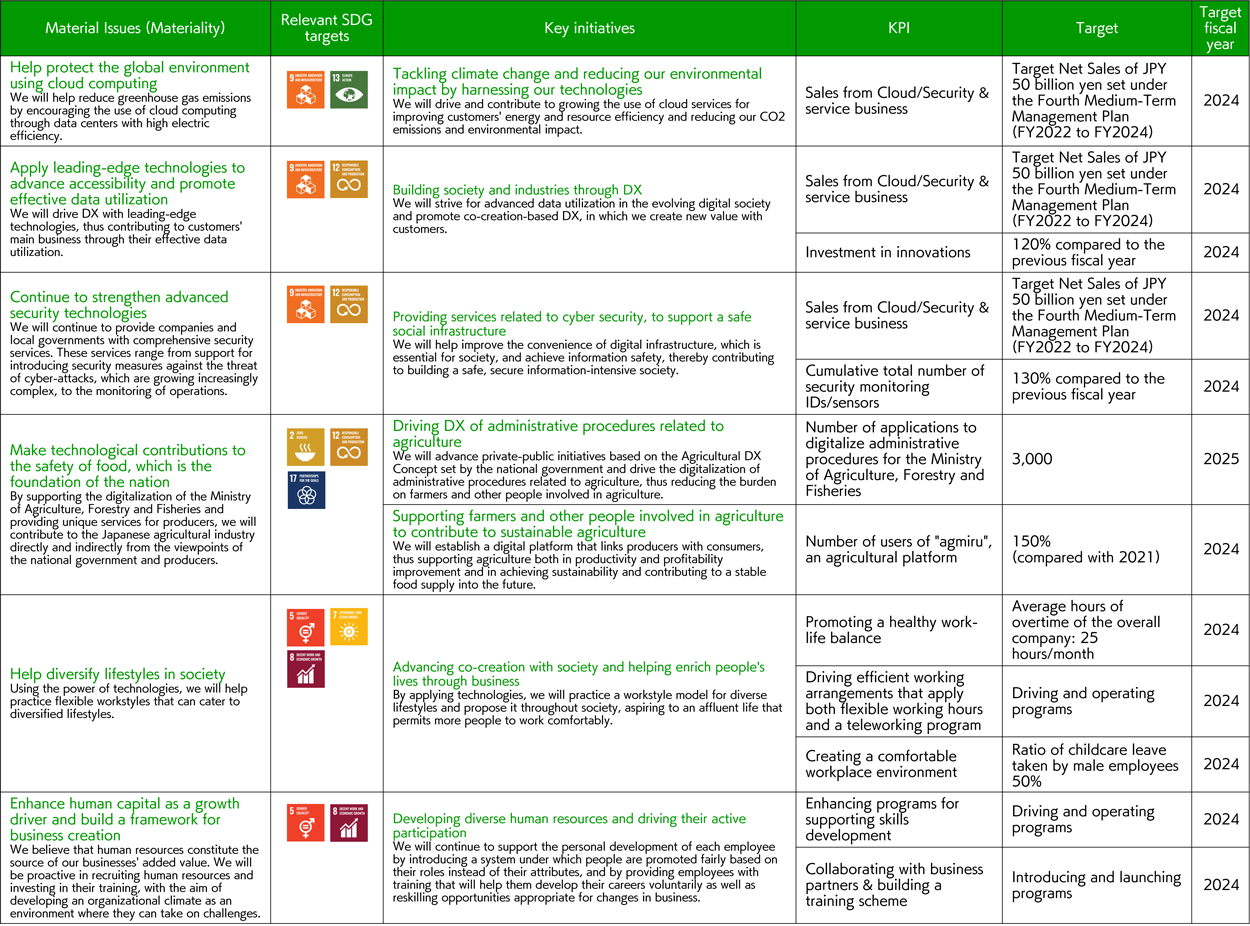 Click the figure to expand it.
ESG Data
ESG Activities
We aim to contribute to the sustainable development of society through our business activities and corporate activities, as well as to realize an increase in corporate value.
This section introduces our efforts to address social and environmental issues and other issues related to the environment, society, and governance.